DETAIL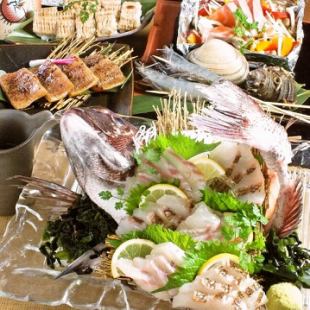 【Luxury banquet · entertainment】 Akashi 3 specialties (sea bream, octopus, communicator helper) gorgeous gorgeous served specialty course 120 minutes drinking attachment 6000 yen
6000 yen
Cooking only 4500 yen
The appearance of Akashi Taiya in the Akashi specialty course is a luxurious course that you can enjoy Akashi in the midst of bone, upgraded to the luxurious grand scale of three Akashi specialties.It is the course lineup that is perfect for corporate banquets as well as entertainment.
Menu
☆ Opening with locally sourced ingredients
☆ Greatly! Akashi's snapper's appearance and Akashi's specialty (Communicating Confucius, Akashi octopus) gorgeous flourish
☆ A lot of seafood! Seafood salad
☆ Cherish the feeling of the season.Two creative skewers tempura
☆ Wall thickness, steamed hole of a helper helmet
☆ Four kinds of beach grill
Example (angelic shrimp, seasonal vegetables and fish fried grilled fish, special selection shellfish purchased today, skewer of Akashi octopus)
☆ umami and sweetness, Toshikoshi Confucius stick sushi
☆ Sweetness
* The contents may change depending on the purchase situation.
Coupon that can be used
Drinking party support ★ OK at weekends OK !! All you can drink for 30 minutes ★

Presentation conditions

At the time of booking

Conditions of use

Can not be used with other tickets / services 4 people or more.Card use not available. Reservation required

Expiration date

January 04, 2017 to the end of October 2017

【Banquet support】 More than 10 people ★ Course cuisine with 1 main character Free ★ Free drink on request for over 20 people

Presentation conditions

At the time of booking

Conditions of use

When using course with drink unlimited course, other tickets and services can not be used together 1 pair 1 time 1 card card unavailable Required Reservations for 10 or more people

Expiration date

February 02, 2017 to the end of October 2017

【Banquet's most popular】 Amazing! Containing the appearance of the sea bream Akashi tea specialty course «All 8 items» 120 minutes Drinking and drinking 5000 yen Cash price

Presentation conditions

Reservation required by 23 o'clock on the day before booking

Conditions of use

Reservations required / 2 people or more.

Expiration date

Until the end of October 2017